Employee Voting Rights State-Specific Chart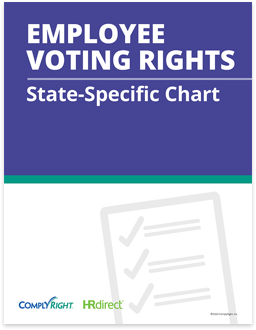 Did you know that more than half the states in the U.S. have laws regarding:
Giving employees time off from work to vote
How much time must be granted
Whether or not this time must be paid
Get the details for your state by downloading a FREE copy of the State-Specific Employee Voting Rights Chart.
Thank you for your request.
You can expect your catalog to arrive in the mail in 7-10 business days.
In the mean time, view the digital catalog online.
Sorry there has been an error.
Please submit the form again.