Paper or Electronic:
Which Type of Recordkeeping Is Right for You?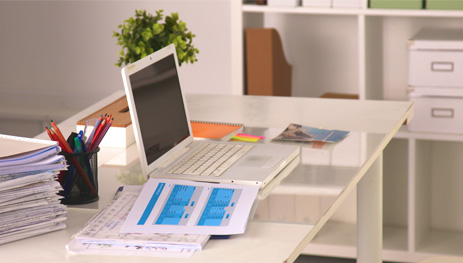 You work with paper records because you're comfortable with them. And why not? You've always done it that way and never had any concerns. But maybe it's time for a change … to electronic recordkeeping.
Yes, paper records are familiar and easy to use, but electronic documents (stored in the cloud) take up less space and are quickly accessible. Still not sure? The answer isn't black and white, so it's important to dig deeper and review the pros and cons of each.
A Closer Look at the Cloud
First things first, let's define what it means when someone says that data is stored in the "cloud." This is a buzzword that is often misunderstood. To be clear, it doesn't mean your information is floating out in the air somewhere. It simply conveys that you can manage files from any Internet-based device — anywhere, any time.
In other words, your data is stored on a computer server that allows you to access it immediately. You can get to your files from your workplace desktop, your coworker's computer, your personal laptop and even your mobile device. That's the cloud.
Ditch and Switch – or Retain the Status Quo?
For many business owners, traditional paper recordkeeping is appealing because it's straightforward. Beyond that, the reasons for clinging to paper records vary, including:
Easy to safeguard in a locked desk drawer or filing cabinet
Tangibility of physical files you can touch and feel
Basic organization with alphabetized folders
No additional costs to scan and convert records, or work with an online provider
No initial training requirements or adjustments
Now let's consider a new, more robust option with electronic HR recordkeeping. Though the points above may be true, there are numerous advantages to online recordkeeping that paper simply can't offer:
Documents are centrally located and retrievable through a keyword search
Ability to share records with designated staff members 24/7
Ease of reviewing and updating records with a few keystrokes
Audit trails show who last used an electronic file for better tracking
No need for long-term storage, and protection from fire, floods and other threats
Which Direction Will You Take?
Are you willing to spend a little time and money upfront to reap the measurable benefits later? Do you like the idea of searching for personnel files with just a mouse click – and accessing them from any virtual location? If so, online recordkeeping may be the answer.
But if digitizing your files feels like too much too soon, you may want to ease into it. You're not alone. Research indicates that more than 70 percent of businesses haven't made the full switch. You can always get your feet wet with some basic online records and, as you get more comfortable with the process, move more of your records online.
Paper, Electronic or Something in Between
Whatever path you choose, you can rely on us for all your recordkeeping needs. In addition to essential HR forms and tools, HRdirect offers a new, streamlined electronic solution. Learn more about our FREE Employee Records App – the first (and pain-free) step to going digital with your employee management tasks.