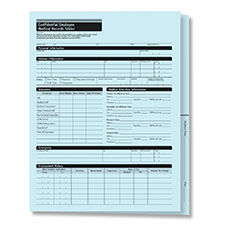 A2211
Employee Medical Records must be Filed Separately
A number of federal laws, including the Americans with Disabilities Act (ADA), Family and Medical Leave Act (FMLA), Health Insurance Portability and Accountability Act (HIPAA), Genetic Information Nondiscrimination Act (GINA) and Occupational Health and Safety Administration (OSHA), require employers to maintain the confidentiality of employee medical information. These records must be stored in dedicated folders and not in employees' personnel files. See more details...
A0107DL
Make Sure Your Employees Safely Return to Work
Employers are responsible for taking proactive measures to prevent the spread of illness in the workplace. The attorney-developed Fill-and-Save Employee Certification to Return to Work Form documents that employees returning to work after illness or exposure are symptom-free and safe to return.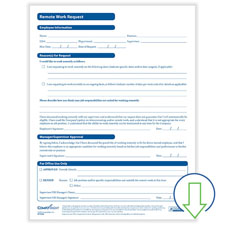 A0147DL
Manage Requests to Work from Home Consistently
Employees may inquire about the possibility of working from home in order to reduce the risk of exposure to infectious germs. Have your employees fill out the Employee Remote Work Request Form for consistency and to simplify the request and approval process.
Obtain the necessary COVID-19 recordkeeping forms to manage HR and compliance-related issues during the pandemic, such as medical records folders, remote work request forms and return to work after COVID certifications. COVID-19 safety postings are available, as well, to inform employees on how to remain healthy and protected.