Specialty Labor Law Posters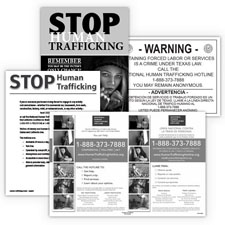 E1NHTP
Easily Comply With National and State Human Trafficking Posting Requirements
Certain industries and states now have specific human trafficking posting requirements they must follow. Bars, hotels, bus stations, airports and other establishments must display mandatory posters in certain states, and in most cases also have language-specific requirements. The Human Trafficking Posters by ComplyRight take the worry out of determining which posters to display.
Simply check for your state in the drop down list, and if specific human trafficking laws exist for your state, the state will appear on the drop-down for selection. Many employers choose to display a human trafficking poster even if not mandatory. In this case, employers would select the National option. (See below for more details.)
For guidance on specific state selection vs. national, see the Product Options tab below.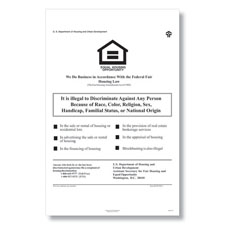 E8114
Real Estate Businesses Must Post the HUD Equal Housing Opportunity Poster
Any business, real estate broker, agent or person in the real estate business must post the HUD Equal Housing Opportunity Poster by ComplyRight in accordance with the Federal Fair Housing Act of 1968. It contains legal definitions of discrimination in real estate and contact information for the government agency. (See below for more details)
Available in English & Spanish
English-E8112 / Spanish-E8113
For guidance on language selection, see Product Options tab below.