Politics in the Workplace Posters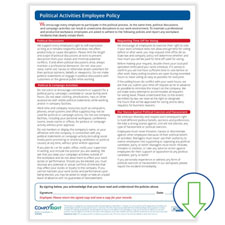 A2034DL
Clearly State Your Policy Around Politics in the Workplace
The Political Activities Employee Policy prohibits the use of work time and resources for political purposes and takes a strong stance against harassment and coercion related to political beliefs. The policy also covers time off for voting and running for public office. See more details...
Using fill-and-save technology, the acknowledgement section easily captures electronic signatures to ensure all employees have received and read the policy.
Fill-and-Save forms are delivered as a downloadable file. A link will be provided in your Order Confirmation email after checkout.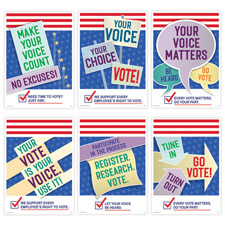 A2020
Show Employees You Support Their Right to Vote
It's important your staff knows you fully back their right to vote. Use any of these Exercise Your Right to Vote Posters to communicate your company's support.
Choose the message that best expresses your position and/or formal policy – or mix and match* the messages as you wish to help inspire and empower your staff to take action.
Select from 6 different messages:
Your Voice, Your Choice. Vote!
Tune In, Turn Out. Go Vote!
Register. Research. Vote.
Your Voice Matters. Be Heard. Go Vote.
Your Vote is Your Voice. Use It!
Make Your Voice Count - No Excuses.
See more details...
Save on the individual price when you purchase the 3-poster pack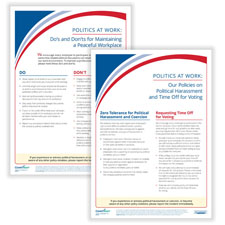 A2244
Communicate Your Stance on Politics in the Workplace
The Political Activities Poster Set includes two different posters. One lets staff know the do's and don'ts for political speech and activities; the other addresses political harassment and coercion, as well as requesting time off to vote.
See more details...
In a year that's already been quite eventful, we're counting down the days to November 3rd. It's more important than ever to establish clear guidelines regarding political conversations and other activities. 
Get the products you need to keep your business running smoothly during this very emotional election season.