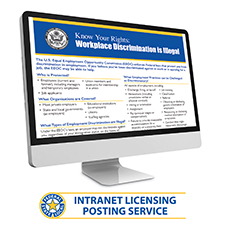 UW1200NET
Provide Access to Mandatory Labor Law Postings on Your Corporate Intranet
Don't fall out of compliance with mandatory postings. With Intranet Licensing Service, you can give your employees (including remote workers) access to electronic labor law postings on your company's intranet or employee web portal.
Your employees simply click on your online portal and select their location to view applicable federal, state, county and city postings. Our in-house legal team continually monitors all agencies to make sure all postings are kept up to date year-round.
Note: Digital solutions are not a replacement for full-size labor law posters in workplaces where physical posters should be displayed.
Please call for special pricing if you have more than 10,000 employees companywide. This license is only approved for employers with up to 10,000 employees.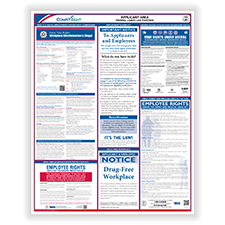 E0076
Easily Comply with Federal Applicant Posting Regulations
The Applicant Area Federal Poster or Sticker by ComplyRight gets you into immediate guaranteed compliance with mandatory job applicant posting regulations. Post in your lobby or other areas where job applications are completed. Available as a laminated poster or compact sticker (E6004).
For guidance on language selection, see PRODUCT OPTIONS below.
Due to supply chain disruptions you may experience a delay in the shipping of your order. For questions regarding shipping times please call 800-999-9111.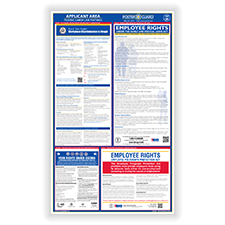 E6004
This compact Vinyl Sticker is ideal for smaller spaces
Along with the federal, state and local labor law posters required of all businesses, employers must display certain employee rights posters for prospective employees to view during the application process. This compact Federal Applicant Area Vinyl Sticker is ideal for smaller spaces, such as application rooms or for retail establishments that provide applicant kiosks or stations with computers.
Workplace dynamics are always changing. To ensure complete posting coverage for your business, you need labor law posters for remote workers, as well as applicant area postings for prospective employees. If your remote workforce is growing, take advantage of additional remote work solutions from HRdirect for easy, effective management and legal compliance.