Downloadable Forms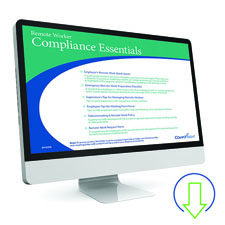 A0103DL
Everything Needed to Manage a Remote Workforce
In order to help stop the spread of germs during the global pandemic, many professionals are being asked to work from home. Telecommuting is on the rise. This is new territory for many employees and supervisors alike. To help our customers make the transition from office to home office, we introduce our new Downloadable Remote Worker Compliance Essentials Kit.
Note: The DOL (Department of Labor) has clarified that FFCRA (Families First Coronavirus Response Act) expanded paid leave is available if necessitated by a school or camp closure due to COVID-19.
This product is a downloadable file. A link to download it will be provided after checkout.