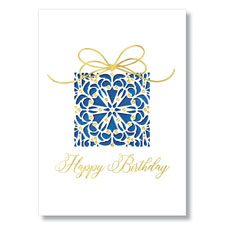 G1986E
Celebrate Employee Birthdays with a Brilliant Gift
Give your employees a beautiful gift they will remember with a beautiful birthday card. This greeting card features an elegant birthday present topped with foil ribbon that adds a touch of creative cheer.
Sentiment: B14-May your birthday be especially happy and the coming year bring you the best of everything.
Premium birthday cards are top-of-the-line featuring shimmering foils or deep embossing.  Each high quality card comes with a variety of personalization options and a foil-lined envelope.