Attendance Tracking Solutions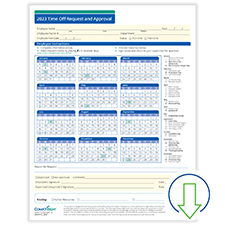 A0037CFL
Downloadable Request for Time Off Form
Simplify your company's time off request process with the Fill-and-Save Time Off Request and Approval Form. Employees request time off by marking days directly on the calendar-style PDF and then email it to their supervisor for approval. Completed forms can be saved electronically as PDFs or printed out for paper recordkeeping. See more details...
This form is delivered as a downloadable file. A link to download will be provided in your Order Confirmation email after checkout.
Employee attendance tracking is a critical responsibility of any conscientious business owner. With a firm handle on employee attendance, scheduled hours, time off and FMLA leave, you'll be in better control of staffing, productivity and payroll dollars. Plus, you can choose the tools that work best for your business -- from calendars, forms and employee folders to time clock software and sophisticated enterprise software.