Guaranteed Labor Law Posting Compliance for an Entire Year
Get Poster Guard® Poster Compliance Service to comply with the new FLSA poster release and never worry about labor law posting changes again.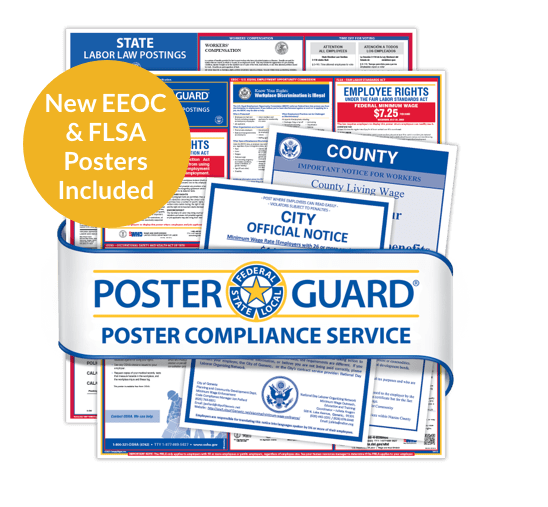 100% Guaranteed Compliance with Federal, State and Local Posting Regulations
Poster Guard Poster Compliance Service keeps you in guaranteed posting compliance year-round for one low annual fee.
Here's how it works:

You Enroll
We send you a complete, up-to-date federal, state and local poster set right away

We Monitor
And ship you a replacement poster automatically, free of charge, every time a mandatory change occurs over the next 12 months.

We Guarantee
Our posters are 100% compliant with all federal, state and local regulations — or we pay the fine, no matter how big
Get an Entire Year of Posting Compliance for just $5 a Month
Benefits
Federal & State
Poster Set
Poster Guard
Compliance
Annual Service
Includes all federal and state postings required for all employers
Includes all county and city postings required for all employers
Includes foreign-language translations wherever required for all employers (regardless of languages spoken by workers)

Federal and state levels only

Federal, state, county and city
Guarantees all postings meet requirements for poster size, color and fonts
Includes 12 months of legal monitoring to identify mandatory changes

Federal and state levels only

Federal, state, county and city
Includes email notification of mandatory posting changes

Federal and state levels only

Federal, state, county and city
Includes 12 months of automatic, free poster replacements whenever a mandatory change occur
Includes printable PDFs of posters for every mandatory update to make sure you are in compliance while your poster replacement is being shipped
Includes unlimited guarantee against government fines for incorrect posting content
Features members-only website to easily view updates and manage compliance across all business locations
Provides year-round peace of mind that you are always in compliance with employee posting regulations
$51.49

$89.99

$59.99
Get Poster Guard
What Makes Poster Guard Different?
Comprehensive
Poster
Solutions
Labor law posting compliance gets more complex every day. Thanks to an ever-growing number of labor laws, many employers have posting requirements that extend well beyond the standard federal and state posters. Whether you have specific needs for your industry, are a federal contractor, have remote workers or have special language requirements, we have the solutions to keep you in full compliance.
Dedicated
In-House
Legal Team
Our expert team of attorneys and legal researchers continually monitors labor law posting regulations issued by more than 22,000 federal, state and local agencies. They use sophisticated research tools and insider contacts to stay abreast of regulatory activity.
When a posting law changes, their goal is to find it first, decipher it quickly, and get you back into full compliance right away.
Unparalleled
CUSTOMER
Service
Poster Guard Poster Compliance Service sets the standard for service in our industry. It starts with detailed communication. As a Poster Guard customer, you'll get timely email alerts about each labor law update that affects you, when a posting requirement changes, and when your updated poster has shipped.
Easily manage multiple locations through our self-service website. Whether you need to review recent posting changes, add/delete or update locations, or audit compliance at each location, you are in control. And of course, our experienced customer service team is always on hand to assist via phone or email.
100%
Guaranteed
Compliance
Poster Guard Poster Compliance Service is backed by our 100% Compliance Guarantee. We're so confident in our research and processes that we will pay any labor law posting fine that results from inaccurate postings, no matter the amount.
We also guarantee delivery of your mandatory replacement posters within 22 business days from the time the labor law poster update is announced. In fact, our average processing time is only 11 days – so you can be confident in your posting compliance all year round.