COBRA
A0005
Easily Explain the Details of COBRA Health Coverage

Have a reliable way to explain COBRA coverage with this clear and detailed sheet. It lists the COBRA health insurance options available when choosing coverage from a qualified plan through the Health Insurance Marketplace.
S2644
Streamline Group Health Insurance Continuation with COBRA Software

COBRA Administration Manager is the quick and easy solution for managing the continuation of group health insurance coverage in compliance with COBRA rules and regulations.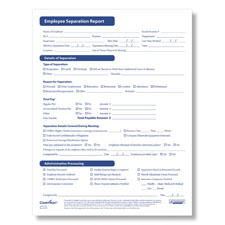 A0373
Ensure Accuracy when Employees Leave

Completing the Separation Notice satisfies all the documentation needed when an employee resigns, is laid off or retires. The checklist covers critical issues that must be discussed with an employee upon separation from employment. Completion of this form starts the process for COBRA (Consolidated Omnibus Budget Reconciliation Act) and issuance of final pay.