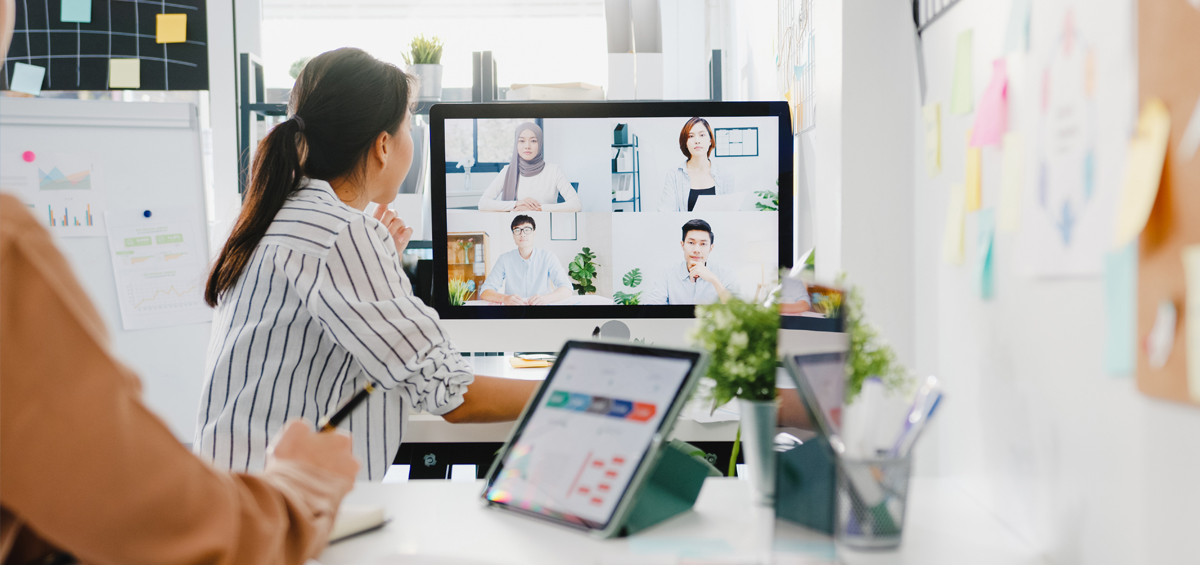 Hybrid workforces. What was once an alternative approach in the work world is quickly becoming mainstream. After more than a year of disruption and adjustments with the COVID-19 pandemic, many U.S. businesses are planning to adopt a hybrid work model going forward. Rather than permitting remote work temporarily in response to the virus outbreak, they'll allow it on a more permanent, ongoing basis.
If this is the route your business will take in the coming months, you should carefully weigh a handful of factors. You want to be certain you're addressing the key components of a hybrid work model, and that you've set up practices and policies that support all employees.
What is a Hybrid Work Model?
At its most basic, a hybrid workforce combines in-person, onsite staff with employees who work remotely. The details may vary depending on your business situation, from employees working a few days a week onsite and the rest of their time from home … to employees working exclusively either on location or remotely. This hybrid structure is the key to many businesses reopening in 2021 as COVID-19 vaccines become more widely available and it's safer for people to gather.
The advantages of this "blended" work model include:
Potential cost savings/reduced overhead with rent, utilities, building maintenance and operation expenses
Playing to employees' strengths for those who prefer (and are more productive) working from home
Broader pool of talent when recruiting and hiring new employees, since they can reside and work from anywhere
While these advantages contribute greatly to the appeal of remote work, there are certain challenges to overcome, as well:
Scheduling meetings and coordinating multi-person projects
Effectively supervising employees and evaluating their work
Creating a cohesive team and preventing remote workers from feeling isolated
Fortunately, with the right tactics, your business can strike a healthy balance that capitalizes on these strengths and minimizes the obstacles.
How Should You Manage a Hybrid Workforce?
To create a smoother, more successful hybrid work environment, you'll want to clarify expectations and establish practices that fully and fairly support all employees. Here are five critical steps to take:
Review which roles are best suited for remote work vs. onsite — If all your employees have been working remotely during the pandemic, you'll want to think carefully about who you'll invite back and who you'll allow to continue working remotely. Are certain positions better served in a location-dependent setting, especially for employees who are vaccinated? The nature of the work, the degree of collaboration and the use of special equipment are all criteria worth weighing. Keep in mind, too, that some employees prefer the structure of an office setting (and the social benefits) and will gladly return when the time is right. Develop a remote work policy that covers the types of positions eligible for virtual work and the necessary qualifications, scheduling requirements and availability, and how productivity will be measured.
It's estimated that 1 in 4 Americans is working remotely in 2021, according to Upwork's Future of Workforce Pulse Report .
Communicate regularly with remote workers — In addition to conducting regular group meetings with offsite teams, hold frequent check-ins with individual employees to keep the lines of communication open. Whenever possible, this should be done via video conferencing on MS Teams or another virtual platform. Use these same electronic tools for meetings involving both onsite and remote workers, so your entire hybrid workforce operates from a level playing field. Always strive for steady, reliable connections between employees and managers, regardless of location, time differences and other factors.
Promote flexibility for everyone — Flexibility is the cornerstone of remote work and a tremendous draw for many employees, even during non-pandemic times. But as you adjust to the unique circumstances with remote workers, you'll want to respect the needs of your in-office employees, as well. The pandemic had a tremendous impact on our personal and family lives, which means onsite employees may need to work earlier or later in the day or require more time off. Whenever possible and within the appropriate legal parameters, manage your onsite team with the same flexibility as your remote workers or there's bound to be resentment.
Set your managers up for success — You can help solidify your hybrid work model by prioritizing strong leadership that empowers your supervisors and managers. Your attitude and vision will help drive a robust workplace culture, as will providing practical resources and emotional support along the way. This may include targeted training, HR/management guidance and mentoring, as well as convenient access to project management, document sharing and other business tools that keep everyone connected and productive.
Update and communicate company policies for what comes next — As your business continues to adjust to the pandemic, the importance of legally compliant company policies cannot be overstated. They help create stability during changing times and ensure your staff is informed of the latest workplace rules. Plan on updating and disseminating the latest emerging policies regarding infectious diseases, vaccines and harassment, as well as new details with remote work, travel and sick leave.
Handle Policy and HR Management the Easier, Electronic Way
To help manage the legalities of a post-pandemic workplace, take advantage of the prewritten, always-current policies in the Company Policies Smart App. Clear, concise workplace policies are vital right now, and this web-based solution makes it easy to compile and communicate them electronically.
Fill-and-Save™ HR Form Libraries are another way to effectively handle the shifting dynamics of a hybrid work model. Each Form Library – from Hiring & Onboarding to FMLA Administration — is a targeted collection of HR forms that can be routed, completed and stored electronically.
Related Content:
Tips to Keep Politics in the Workplace from Getting Out of Hand
Is Employee Conduct Outside the Workplace Open to Discipline?