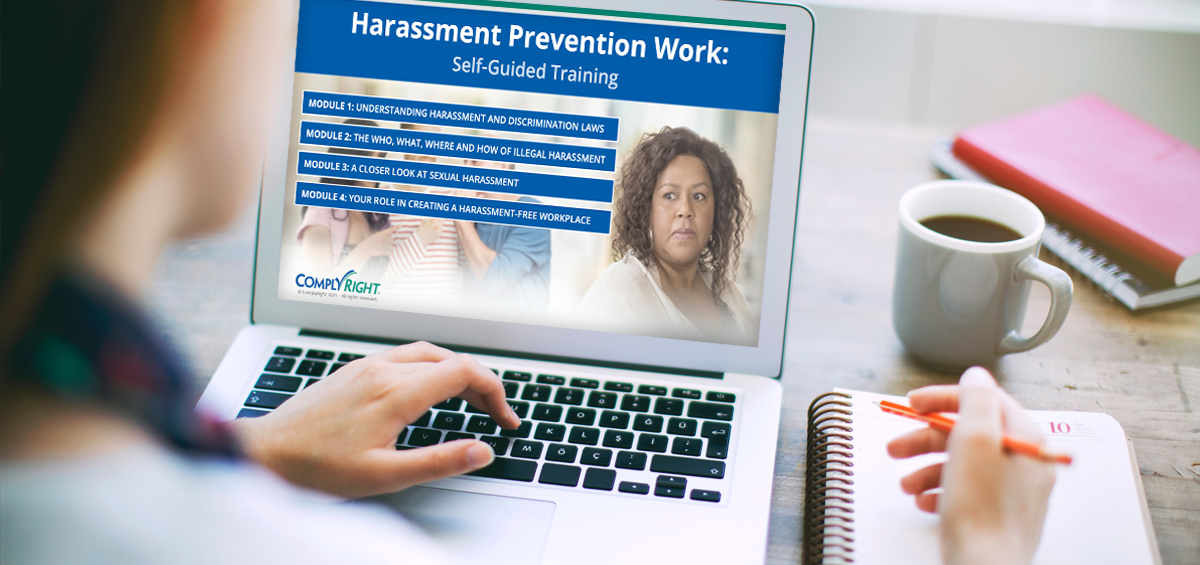 Did you know …
Sexual harassment is the most common form of workplace harassment, making up 50% of all complaints?
56% of employees have witnessed or experienced sexual harassment in the workplace?
23% of women reported an increase in online harassment during the pandemic?
Statistics like these indicate that sexual harassment is a pressing concern in our workplaces … and more needs to be done to stop it. Fortunately, your business can help curb problematic behavior and potential liability with the right sexual harassment prevention tactics, such as sound workplace policies and regular training.
Understanding What Constitutes Harassment in the Workplace
Let's start with the legal definition of harassment. Basically, harassment is any form of physical and verbal conduct demonstrating hostility toward someone based on sex (including pregnancy, sexual orientation and gender identity), race, color, religion, national origin, age, disability, genetic information or any other legally protected characteristic. Depending on the state, county and/or city, the definition of harassment may be broadened to cover marital or family status and political affiliation. Specifically, sexual harassment is characterized by unwanted sexual advances or sexually explicit words, pictures or gestures.
Harassment can emerge in many ways, whether in person, in writing, by telephone, or by email or other online communications (digital or cyber bullying). And rank within the workplace doesn't matter. Harassment is prohibited whether it's committed by an employee against another employee, by an employee against a manager, by a manager against a subordinate, or by a manager against another manager.
The Far-Reaching Effects of Workplace Harassment
The negative impact of sexual harassment in the workplace is two-fold. Initially, the harassment hurts your business and bottom line through decreased employee productivity and morale – and increased absenteeism and turnover. Then there's the ever-present risk of legal action, which could have devastating consequences. Workplace harassment could subject your business (and the individual perpetrators) to serious liability costs. A recent study reports that, on average, companies spend between $175,000 and $250,000 in legal fees to defend against a harassment lawsuit from inception through trial. If successful in court, a harassment survivor may recover lost earnings (past and future), damages for emotional distress, punitive damages, attorney fees and litigation costs.
Something else to be aware of: Under federal anti-discrimination laws, claims are typically only brought against employers. However, some state and local laws allow claims against individuals under "common law" theories, such as battery (harmful or offensive touching, like pinching, patting, grabbing or fondling) and assault (threatening words, intimidation and other forms of verbal harassment). Furthermore, President Biden recently signed a bill that voids pre-dispute arbitration agreements for sexual harassment and sexual assault claims. This means that even if you require an employee to sign an arbitration agreement, if that employee is later sexually harassed or assaulted, he or she can pursue claim resolution, sue in court under federal or state law, or both. The legislation, which is being called one of the most significant workplace reforms in American history, also gives survivors the freedom to speak publicly about their experience.
Beyond the broadening legal implications, every employer needs to recognize that just one highly publicized sexual harassment allegation, claim or lawsuit could damage the company's reputation, employee loyalty, community support and industry standing.
Every employer needs to take harassment prevention training seriously. Conducting regular, effective training can help your defense in the event of a lawsuit.
Step Up Your Sexual Harassment Prevention Tactics
Following a few fundamental steps can go a long way toward building awareness and controlling inappropriate behavior. To help foster a respectful, risk-free workplace, you should:
Develop a no-harassment policy. A carefully crafted, attorney-approved policy will:
Define harassment and provide examples of prohibited conduct
Encourage employees to report harassment immediately
Explain the internal complaint procedure
Emphasize that all complaints will be taken seriously and investigated in a prompt, thorough and impartial manner
Prohibit retaliation for reporting harassment or participating in any subsequent investigation or lawsuit
Designate at least two internal contacts to receive harassment complaints.It's recommended you select and train several individuals who can hear and document employee harassment concerns. Be sure to provide the names and complete contact information within your policy.
Distribute and communicate the policy. Send out a policy document for employees to read, sign and date – and keep a copy in their personnel files. In addition, it's a best practice to reinforce your company's policy with a notice or poster displayed in an area where all employees gather, such as a break room.
Train your employees and managers. Anti-harassment policies are only as effective as the employees and managers who follow them. Surprisingly, many employees don't know what is considered harassing behavior, nor do managers know how to recognize and respond to it. Therefore, regular training is strongly encouraged for every employer. And if you're a private employer in California, Connecticut, Delaware, Illinois, Maine or New York, it's not just a recommendation, but a requirement, to conduct state-compliant annual sexual harassment prevention training. Noncompliance with the state mandates can lead to penalties.
Take a Proactive Approach with Effective, Expert-Developed Training
Again, proper training is vital for protecting employees from harassing behavior and your business from potential legal action. Harassment Prevention at Work: Self-Guided Training is an interactive, self-paced training program that educates employees and managers on the various types of workplace harassment. Thought-provoking exercises and engaging quizzes reinforce the leading methods for preventing and addressing harassment.