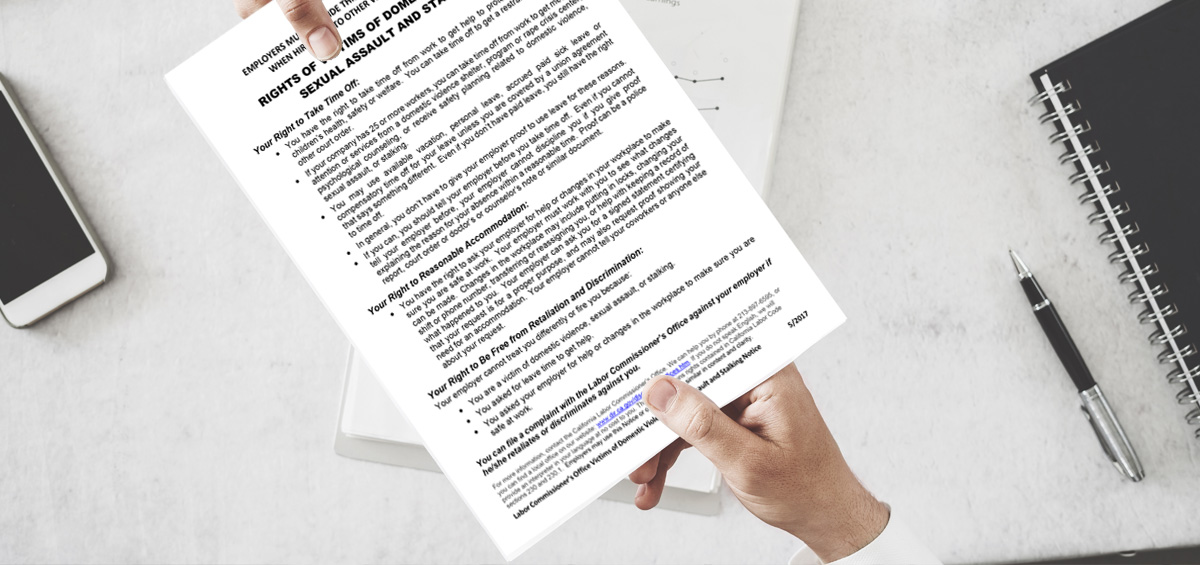 If you're displaying up-to-date labor law posters in the workplace, you may mistakenly think you're fully compliant. But the reality is that U.S. employers must also distribute certain legal notifications (or employee handouts) informing employees of their rights and responsibilities. This means your legal obligation doesn't end with physical or electronic postings but also involves written notices for a whole host of circumstances.
Let's look at the dynamics surrounding this growing responsibility, including how you can keep up with new or updated employee handouts impacting your business.
Employee Notifications on the Rise
If you're unfamiliar with employee notifications, here are some fast facts to get you up to speed:
They are typically issued by government agencies, and they vary among states, counties and cities
They may be necessary at the time of hire, on an annual basis or due to a triggering event, such as a leave of absence, pregnancy, change in pay or status, benefits enrollment, workplace injury or termination
They change frequently, and most agencies don't notify employers of updates
They apply to all employees, including remote workers
Something else to be aware of: Employee handouts are not optional, and you may incur fines and penalties for failing to distribute them. Federal penalties can add up to $21,663 per violation, just for overlooking notices or using outdated ones. Daily fines can also apply when notices are not provided within the time frame specified by the law. On state, county and city levels, the fines typically range from $100-$500 per violation.
There's also the risk of employee lawsuits, where you can lose certain defenses if you fail to notify employees of their rights. Consider the Putnam County Board of Education of Winfield, West Virginia, which was recently ordered to pay $50,000 in lost wages to an unlawfully terminated employee to resolve a U.S. Labor Department lawsuit. Among other issues, the school board failed to provide the employee with any of the required FMLA employee notices regarding his rights to FMLA-protected leave when he requested time off to care for a parent with a serious health condition. This oversight prevented him from exercising his rights and making an educated decision about leave … and was ultimately deemed a violation of the FMLA and its notice requirements.
Across the nation, there are more than 400 different mandatory federal and state notices that must be distributed to employees for various reasons...
How to Easily Comply with Complex Employee Handout Requirements
When you weigh the time and resources needed to keep these notices current — especially if you operate in multiple states — you quickly realize that do-it-yourself compliance is not an option.
The Mandatory Employee Handout Service is a cost-effective solution to inform your employees and protect your business. You get immediate, 24/7 access to all required federal, state and local employee handouts for your location. And depending on the laws, you can choose from a variety of distribution options, such as printing, attaching to email, incorporating into policy manuals or posting electronically on your intranet. You're assured full compliance due to continuous legal monitoring and real-time updates by our expert legal team.
For more information, download a free e-guide on mandatory employee handouts.  You'll get additional insight from our HR and legal professionals, including clear answers to your most pressing compliance questions.
Related Content:
Compliance Goes Beyond Posters: Know the Hidden Hazards of Employee Handouts
Remain Current and Complete with Required Postings for Employers