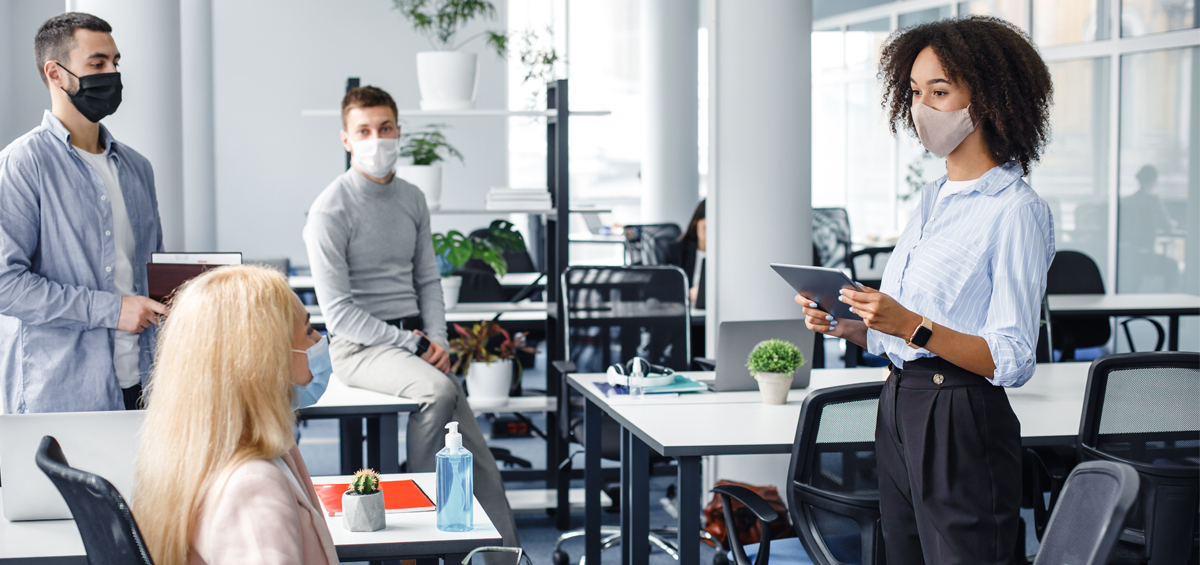 If you're confused about the laws surrounding the coronavirus, you're not alone. New regulations and guidelines are being released at a furious pace. You may feel your hands are tied when it comes to COVID-19, but employers actually have many rights when managing their business and workforce.
You can tell employees who appear sick to go home.
According to the Centers for Disease Control and Prevention (CDC), employees who become ill with symptoms of COVID-19 should leave the workplace. Employers may also ask employees who have come into close contact with someone who has the virus to quarantine.
New CDC quarantine guidelines have been put in place. The new rules recommend close contacts of those infected with the coronavirus should quarantine for 7 to 10 days after exposure – reduced from the previous 14 days. Individuals can end their quarantine after 7 days if they receive a negative test, or 10 days without getting tested.
You can ask sick employees about their symptoms.
During a pandemic, employers covered by the Americans with Disabilities Act (ADA) may ask employees if they are experiencing symptoms of the virus. For COVID-19, these include fever, chills, cough, shortness of breath and sore throat. You must keep all information about employee illness as a confidential medical record in compliance with the ADA.
You can ask employees seeking accommodation if they have a condition that increases their risk for COVID-19 complications.
As long as the pandemic is considered a "direct threat" by the CDC, you can ask employees requesting ADA accommodations (such as remote work arrangements) to disclose if they have a medical condition that makes them a higher risk for complications related to the coronavirus. According to the CDC, these conditions include people who are immunocompromised as well as people with:
Chronic kidney disease who are undergoing dialysis
Chronic lung disease
Diabetes
Liver disease
Moderate to severe asthma
Severe obesity (body mass index or 40 or higher)
You may be required to provide reasonable accommodations for employees who have these conditions. Although not specifically covered by the ADA, employees who are pregnant and workers over the age of 65 may also require an accommodation. Employers should check local laws and consider telework or a change in schedule, for example, if an accommodation is necessary.
You can require employees to wear masks.
During a pandemic, the Equal Employment Opportunity Commission (EEOC) says employers can require workers to wear masks, or other protective clothing such as gloves. The only exception would be if an employee qualifies for an exemption under the ADA.
Employers are not mandated to provide masks. However, supplying masks may support compliance with OSHA's General Duty Clause, which states that employers must furnish a place of employment free from recognized hazards.
In some cases, you may be required to have employees wear facial coverings. Masks are recommended by the CDC – and some states, cities and counties have their own laws regarding masks. Depending on your business location, masks might be required for everyone in your workplace or just customer-facing employees.
You can take employee temperatures.
Screening workers is an optional prevention strategy that you may implement. Generally, measuring an employee's body temperature is considered a medical examination. However, because the CDC and state/local health authorities have acknowledged community spread of COVID-19, it's been determined that employers may measure employees' body temperature.
You can have someone responsible for screening employees. Or the CDC suggests encouraging employees to self-screen prior to coming into work. Workers should not enter the business if they:
Have symptoms of COVID-19
Have a fever
Are under evaluation for COVID-19 (e.g., waiting for test results)
Have been diagnosed with the virus and are not yet cleared to return
It's important to note that screening is not completely effective because some people with the virus do not exhibit symptoms.
If you do screen employees at the worksite, it's critical to maintain social distancing measures. And all results should be kept confidential. Non-exempt (i.e., "hourly") employees must be paid for screening time whether at home or at the worksite. And if employees are sent home, you should consider paying them for time missed (if not covered by leave) to avoid legal risks.
In addition, OSHA recommends that you place posters that encourage hygiene and physical distancing to help stop the spread of COVID-19. These notices should be placed in the screening area, entrance and other common areas where employees routinely gather.
You can require employees to have COVID-19 vaccinations.
Employers have the legal right to require employees who perform duties in the workplace to receive a COVID-19 vaccination, according to recent guidance from the EEOC. Exceptions apply to employees who cannot be vaccinated because of disabilities or due to sincerely held religious beliefs. Remote workers who do not enter the workplace should not be compelled to get a vaccine since they are not at risk of spreading the virus to other employees or customers.
If you make vaccines a requirement, it's important to have a written policy in place. The policy should include how the tests are administered, how to request an exemption and what happens if the employee refuses the vaccine. As the employer, you should cover any out-of-pocket costs.
Find Additional Support and Solutions
The pandemic presents unique challenges for employers. Fortunately, additional resources are available to help you navigate the laws – and protect your employees during these trying times.
Employees are not entitled to an accommodation under the ADA to avoid exposing a family member who is at higher risk of severe illness from COVID-19. Employees with health conditions may necessitate an accommodation but you don't have to provide one to prevent family member exposure.
Related Content:
5 Essential Workplace Policies to Boost Employee Productivity
Do You Know How to Enforce Employee Attendance? Follow These 9 Pointers