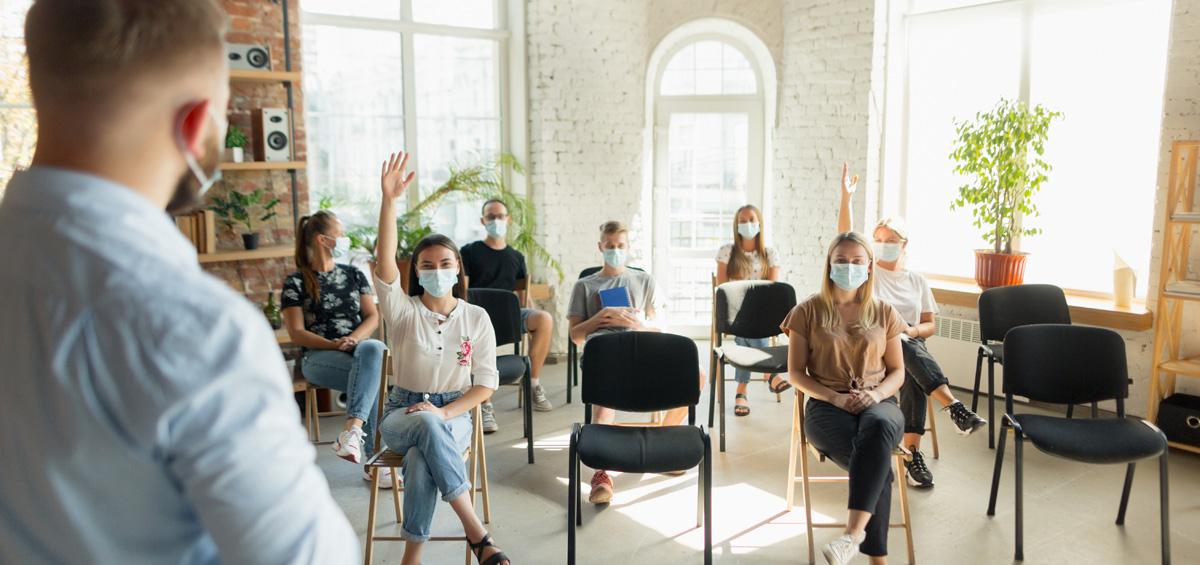 We're living in challenging times, from the evolving circumstances with the COVID-19 pandemic to escalating civil and social concerns. What occurs in society at large often impacts our workplaces, too, so employers must be particularly diligent right now.
What does this mean for your business? In addition to prioritizing targeted anti-harassment and discrimination training, it's essential to build a workplace culture that treats employees fairly and respectfully.
The following practical strategies and resources can help. With the right approach and specific actions, you can increase awareness, promote preventive measures and foster a healthy work environment where harassment isn't tolerated.
Put Your Company on Solid Ground with a Clear Policy
Sexual harassment gets the most attention in the news and with discussions of greater systemic issues. But the reality is that lawsuits are filed every day alleging discrimination or harassment due to race, color, religion, national origin, age, disability, genetic information and other legally protected characteristics.
The Equal Employment Opportunity Commission (EEOC) defines harassment as unwelcome or offensive conduct based on any of the above characteristics. The inappropriate behavior can occur physically, verbally (or in writing) and visually. Plus, state and local laws often provide further protections based on sexual orientation, marital status and political affiliation.
Something else to keep in mind: Harassment is prohibited whether it occurs in person, in writing, over the telephone, via email, on the internet or through any other means of electronic communication. As more and more workplaces allow remote work or adopt a hybrid workplace, they must broaden the scope of harassment prevention to cover these situations. The protections that apply to traditional, onsite workplaces extend to these new virtual arrangements, as well.
The first foundational step in your anti-harassment efforts is a solid anti-harassment policy. In fact, the EEOC declares that it is "critical" for every employer to develop and distribute an anti-harassment policy.
This policy should include a clear explanation of harassment and specific types of prohibited conduct. It should encourage employees to report harassment immediately and explain the internal complaint procedure. And it should specify at least two contacts within your company who are properly trained to investigate complaints.
Enforce Your Policies with Regular Harassment Training
Of course, anti-harassment policies are only as effective as the employees and managers who uphold them. This is where up-to-date harassment training comes in. Not only is this a recommended practice for any type or size of business, but it's also a requirement in certain states (including CA, CT, DE, IL, ME and NY). Regular and engaging training is a powerful tool for building understanding and cultivating an inclusive, harassment-free workplace.
Your company's training should reinforce the fact that certain conduct is strictly prohibited. But don't just make a statement; give examples of the various forms of harassment that get employees in trouble. Explain, too, that behavior must be severe or pervasive to support hostile work environment claims under federal and state laws.
Use engaging training materials with fresh, current and interactive content. Look for programs that highlight scenarios that are relatable and fit within your company culture. Don't only include office situations if you run a construction company, for example.
Many employees may not know what constitutes unlawful harassment in the workplace. Training can bring attention to the various types of conduct — from subtle to overt — that are offensive or illegal.
Stress personal accountability among employees, where everyone plays a role in the larger work environment. Employees should never behave inappropriately, nor should they ignore or permit situations they witness or learn about.
In addition to covering the basics with your harassment training, take the time to provide additional training for managers and supervisors. Here are some points to cover with them:
DO set a good example as a manager
DO take all complaints seriously, even if your initial judgment is that the complaint is unwarranted
DO report any complaints immediately to designated contacts
DON'T use your position to request personal favors of any kind
DON'T wait for a complaint if you personally observe something that is likely to be offensive
DON'T retaliate against any complainant
DON'T tell complainants to "just ignore it"
DON'T promise confidentiality as complaints can only be kept as confidential as possible
Protect Your Business with Effective, Expert-Developed Training
As we continue to navigate the shifting dynamics of 2021 and beyond, it's vital to conduct meaningful, up-to-date workplace harassment training. The Harassment Training Smart App from HRdirect provides a web-based solution for businesses of all sizes to provide current, attorney-approved harassment training.
You can also satisfy state-specific training requirements with the online sexual harassment training course available through HRdirect, which features timely, EEOC-compliant content and innovative teaching tactics to enhance learning and retention.
Related Content:
New Supreme Court Rulings Call for a Careful Review of Potentially Discriminatory Job Postings
Is Employee Conduct Outside the Workplace Open to Discipline?